NZOIA Member Discounts!
NZOIA is pleased to secure the following discounts to NZOIA Full Members. These discounts are to recognise the needs of outdoor professionals who are qualified and currently practising outdoor instructors/guides. 
Click on the logo's below to find out how to activate the discount.
Gear and Equipment
 

20% discount to NZOIA Full Members 

 

           

  20% discount online to NZOIA Full Members  

 

 

Discount available upon request for Full Members

 

Pro-Team trade pricing for NZOIA members who use Cactus gear for their paid work outdoors

Wellington Store: 20% discount to NZOIA Full Members (excludes kayaks, paddleboards and surf skis)

NZOIA Full Members: 30% discount

NZOIA Assessors: 40% pro-deal discount

 

 

Watch this space!

 

 
 
 
 
 
Climbing Walls
 

 

Basecamp Wanaka - NZOIA Members: $2 off entry  

Fergs Indoor Wall - NZOIA Members: $15 ($3 off entry)

 

 

 

 

 

Uprising Boulder Gym - Chch - NZOIA Members: Discounted single entry rate of $12, or $100 for 10-pass entry. 

 

 

Free entry for any NZOIA member (with their card and photo ID) with another paying customer.

15% on all gear not on sale.

 

 
 

More to come shortly as we finalise!

 
 
 
 
 
Experiences
 

 

Porters Ski Area - NZOIA Full Members: 20% discount on Weekdays (Mon to Fri).

The discount is not valid during the Peak season (6th - 21th of July).

 

 

 

Rainbow Ski Area

Coming soon!  

 
 
  
 
 
 
 
 
 
 
Publications
Watch this space! In the meantime, check out the Members Discount on publications on our Merchandise page.
Confirmation and Payment
Thank you for registering for the NZOIA National Training Symposium (or Assessors Conference) hosted by Tihoi Venture School. We will be in touch if there is anything else we need to know. You will receive more information nearer the time or check out the Symposium website page. 
If any of your details change, please email This e-mail address is being protected from spambots. You need JavaScript enabled to view it. so we can adjust your registration. If you are only attending the Assessors Conference you don't need to do anything further, unless you wish to pay for the airport shuttle below.
Symposium Attendees: Remember, if you wish to attend a Refresher Workshop, you will need to submit a separate application on the NZOIA website course calendar page. For help visit: How to Apply. No need to pay though, as this is included in your Symposium registration fee!
Payment:
You can choose to pay via internet banking or credit card. Your Symposium Registration Fee must be paid before your place on the Symposium can be held.

If you wish to pay via internet banking, or your employer is paying on your behalf, you will be emailed an invoice which will have payment details.
Member - Earlybird*   

   Member - Normal   
   Non-Member    
Airport/Taupo Shuttles

$475 (now closed)

$525

$600

$25 each way

 
* Earlybird Rate applies to NZOIA Members only who have completed all registration documentation AND payment by the 31st May 2018. If either is incomplete as at the 31st May 2018, you will be required to pay the normal rate.
Included in the Symposium Registration fee are three nights accommodation, meals from Thursday dinner to lunch on Sunday, Refresher Workshops (usually $195 each), Training Workshops and the awards dinner function on Saturday night.
We look forward to seeing at the Symposium!
REFUND POLICY
Your registration fees do not cover the full cost of the event, NZOIA absorbs over 40% of the cost for the Symposium.
When a participant withdraws:
Before the event closing date (1st August 2018): NZOIA will deduct a $50 administration fee, the balance can then be refunded or transferred to another event.
After the closing date: The fee is NON-REFUNDABLE. It is transferable (minus a $50 administration fee) under exceptional circumstances (e.g. bereavement, medical reasons), medical certificates/other evidence may be required.
Fees for missed meals / late arrivals / early departures will not be refunded.
If you have booked a shuttle and the shuttle is cancelled by us you will get a full refund of your shuttle fee. If you cancel it before the 1 August 2018 we will also refund you the shuttle fee. After the closing date there will be no refund.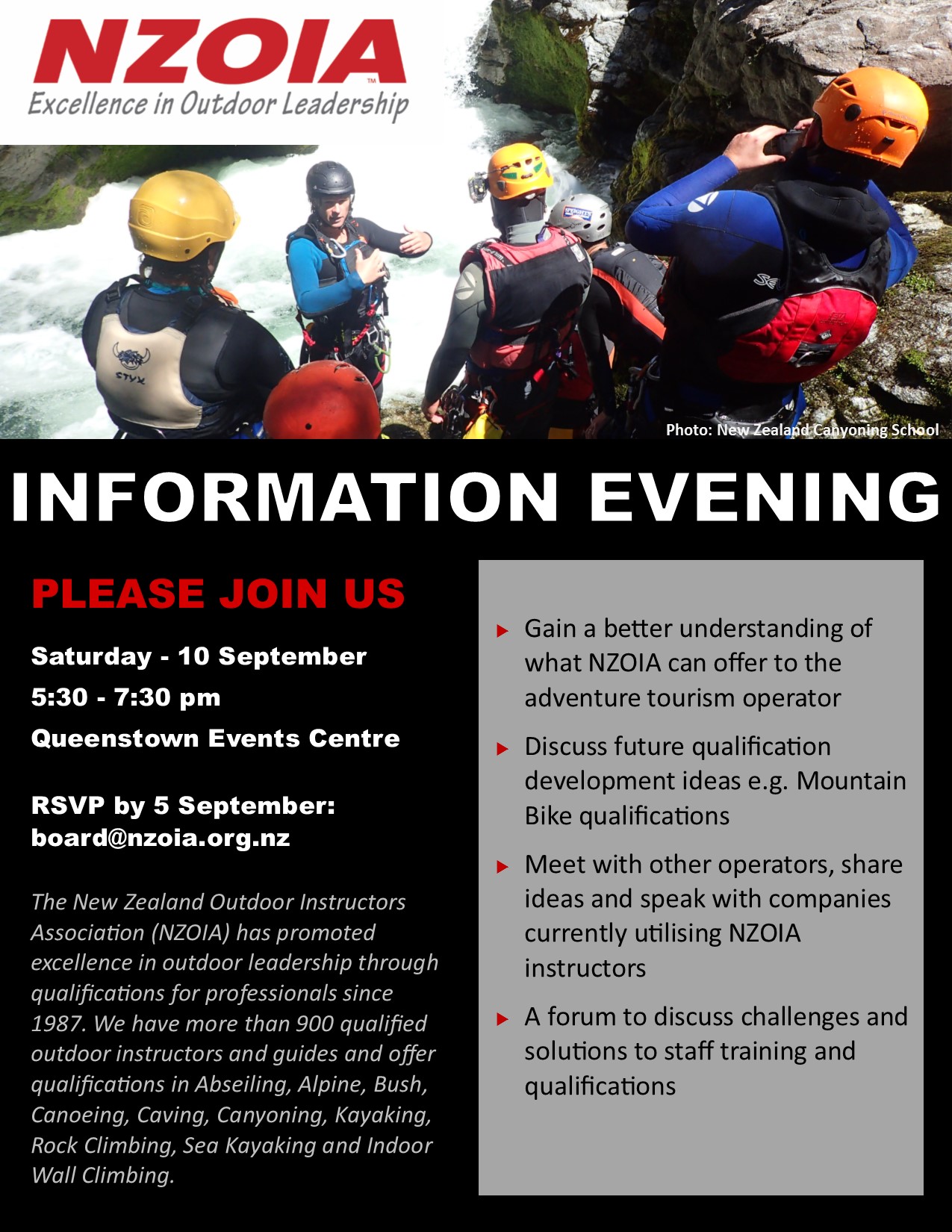 Affiliated Membership
Affiliated Membership benefits | Who is it for? | Qualifications Offered | Assessor Pathways for Senior Staff
Affiliated Membership Fees | Assessment Process and Fees | How does it work? | FAQ | Affiliated Membership Brochure
For outdoor operators requiring a qualified staff and/or volunteer team.

Photo Credit: Asher March
Affiliated Membership benefits
The Adventure Activity Regulations and Health and Safety at Work Act have meant more outdoor operators are seeking qualified staff. NZOIA Affiliated Membership is a low-cost and flexible membership option for outdoor operators, offering guides and instructors access to NZOIA leader qualifications and membership benefits. The tiered pricing structure makes it easy for any operator to ensure they have the qualified workforce they require, without having to pay for or register staff for Individual Membership.
Who is it for?
Affiliated Membership is for outdoor operators who:
- rely on a skilled pool of instructors or guides
- have instructors or guides operating unsupervised under a safety management plan
- have a staff or volunteer team of more than five
Qualifications Offered
The leader qualification is the only level that can be obtained under an Affiliated Membership. It is suited to those with staff or volunteers who are working without direct supervision within a defined operational area and under an activity and site specific risk management plan. The disciplines that NZOIA offer Leader Level Qualifications in are:
- Sea Kayak
- Rock Climbing
- Abseil
- Bush Walking
- Canoe
- Kayak
- Cave
Assessor Pathways for Staff
Staff that hold a NZOIA Level 1 qualification can apply to be a Leader Level assessor. This is excellent professional development allowing staff that have been accepted as assessors to deliver training and assessment to any NZOIA member, including members within their own operation. They will also be involved in moderating with other assessors within the same field.
To become an NZOIA Leader Level assessor, individuals are required to:
1. Hold a current Level 1 qualification in the discipline they wish to assess
2. Apply and be accepted to become an assessor
3. Attend and pass a one day Assessor Training Workshop
4. Run an entire assessment under the guidance of a coach who is a NZOIA Senior Assessor
5. Deliver assessments for a minimum of eight candidates biannually
6. Participate in ongoing moderation and assessor currency requirements
To find out more about how to become an assessor click here
Affiliated Membership Fees
The tiered pricing structure is dependent on the number of staff who already hold current Leader qualification(s) and those who will be assessed within the membership year.
Annual Affiliated membership fee

Assessment fee *

(Assessor fee & expenses will be in addition)

Total Initial Cost to outdoor operator

(Excluding assessor fees/expenses)

Up to 10 people

$600

$50/person

5 people

$600

$250

$850

10 people

$600

$500

$1100

11-20 people

$1000

$50/person

11 people

$1000

$550

$1550

20 people

$1000

$1000

$2000

over 20 people

$1500

$50/person

21 people

$1500

$1050

$2550

30 people

$1500

$1,500

$3000


Assessment Process and Fees
Leader Assessments can be delivered through the Free Range Assessment model or with assistance from NZOIA under the Custom Assessment model.
A Free Range Assessment is when the operators liaise directly with a NZOIA Assessor. They negotiate the fee, time and location with the assessor. To find out more about how to set up a Free Range assessment click here.
A Custom Course on the other hand is where the operator approaches NZOIA with the number of staff they would like to qualify and NZOIA will liaise with the assessor/s and organise logistics for the course. This is the preferred option for those wanting to qualify more than eight staff/volunteers at once. To find out more about how to set up a Custom Assessment click here.
An Assessor Fee is usually $375 per day plus expenses (ie travel, accommodation etc)
NZQA Pathways - Get qualified with NZOIA & Skills Active
For the Abseil, Bush, Kayak, Rock and Sea Kayak Leader Qualifications, it is possible to gain a National Certificate in Outdoor Recreation Level 3 qualification in the same strand, awarded by Skills Active. To find out more click here.
Skills Active also offer an Apprenticeship in Outdoor Recreation where apprentices can claim up to $1,000 for professional development costs which can include training and assessment fees. To find out more download the flyer here.
How does Affiliated Membership work?

Outdoor operator registers online under one of the three pricing tiers depending on how many guides or instructors they have
Training and Assesssment needs get discussed and scheduled
Guides and Instructors become qualified
Every three years, guides and instructors revalidate their qualifications
Guides and Instructors with a NZOIA Level 1 qualification can apply to be a Leader Level assessor
FAQ's
What happens when staff change from season to season?
Employers can manage the staff on their Affiliated Membership by adding new employees when they arrive or taking them off when they leave. If the number of staff exceeds the limit on their Affiliated Membership, outdoor operators can upgrade to the next tier.
What benefits do I get as an Affiliated Member?
- The NZOIA magazine 'The Quarterly'
- The weekly newsletter 'NZOIA 4YA'
- Access to discounts on publications and products stocked by NZOIA
- Access to discounted Training Courses
- The right to apply to be an NZOIA Assessor/Trainer
- Use of the NZOIA logo
-
- As an employer with Affiliated Membership, what do I need to ensure?
- NZOIA communications (ie 4YA and Quarterly) are accessible to all staff. This is our way of keeping members informed of the latest industry updates.
- When staff depart, they receive information about revalidating their qualification and renewing membership if they wish to retain their qualification.
When staff leave, what options do they have to retain their qualification?
They can either become registered under another outdoor operators Affiliated Membership or register as an individual member with NZOIA.
Is there any funding available that you know of for getting staff or volunteers NZOIA qualified?
Depending on what type of business/organisation you are, there are community groups who offer support for things like assessment fees. It is a matter of approaching your local groups ie Lions Foundation and Rotary Clubs to see how to apply for these types of grants.
I work for an outdoor provider that I think would benefit from Affiliated Membership. Are there ways that staff and employers can share the cost?
Yes, it is possible to share the cost of membership and assessment fees. This is something that would need to be negotiated with your employer.
Membership and Registration Terms and Conditions
Click here to veiw NZOIA's Membership and Registration Terms and Conditions

Skills Active Benchmarking - Resources for Assessors

NZOIA Assessment Process - Assessor Guide (Leader)
NZOIA Assessment Process - Assessor Guide (Instructor)
Candidate Assessment Process - Leader:
Abseil | Bush | Kayak | Rock | Sea Kayak
Candidate Assessment Process - Level 1: