NZ Whitewater Guide - Edition 5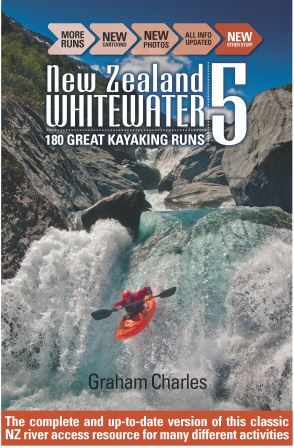 Graham Charles has done it again!
Long time NZOIA instructor/assessor Graham Charles has rewritten the New Zealand whitewater guidebook for its fifth edition. Completely over-hauled once again, Charles says it is even bigger and better. Boasting some 50 new runs and plenty of sub levels of information it enables people to access nearly 200 whitewater sections of river. New photographs and cartoons reflect the new things being done which reflect the culture of going higher and bigger while being inclusive of the lower end needs of emerging kayakers and lifetime recreationalists.
From easy float trips to full-on hairball unscoutable gorge waterfall runs, information is provided about what to expect on the river, including grades, flow information, gradients, times, access details and shuttle distances without taking away that most important element: adventure! His river descriptions are spiced with dry humour, cautionary tips and tales, anecdotes and kayaking history along with a strong message on river conservation. New Zealand Whitewater Edition 5 is an essential part of any kayaker's kit and will open a door to the extraordinary range of kayaking and river recreation opportunities available in New Zealand.
Graham Charles is working with NZOIA to provide members with an opportunity to buy a guidebook at a professional rate.

The guide has an RRP of $34.95, but NZOIA members can get their copy for $27.95 INCLUDING postage and handling!
To get your copy: Log into your NZOIA profile (top right of page), then hover over the 'Payments' tab on the red horizontal menu, look for the 'Member Only' option.