About NZOIA
NZOIA has promoted excellence in outdoor instruction and guiding through qualifications for professionals since 1987. We are the qualification body for ten outdoor activities or disciplines with three levels of qualification, which are recognised nationally as the industry standards. We also offer training and revalidation options to our members.
We've developed New Zealand outdoor instructing and guiding into a profession with our commitment to training, standards, currency, and a Code of Ethical Practice. Assessment, through formal peer review of our instruction and guiding practices, has improved our way of working. We're responsible for promoting the highest standards of outdoor instruction and guiding, and striving to ensure that outdoor activities participants enjoy quality experiences.
We work in a positive environment where we combine education and fun.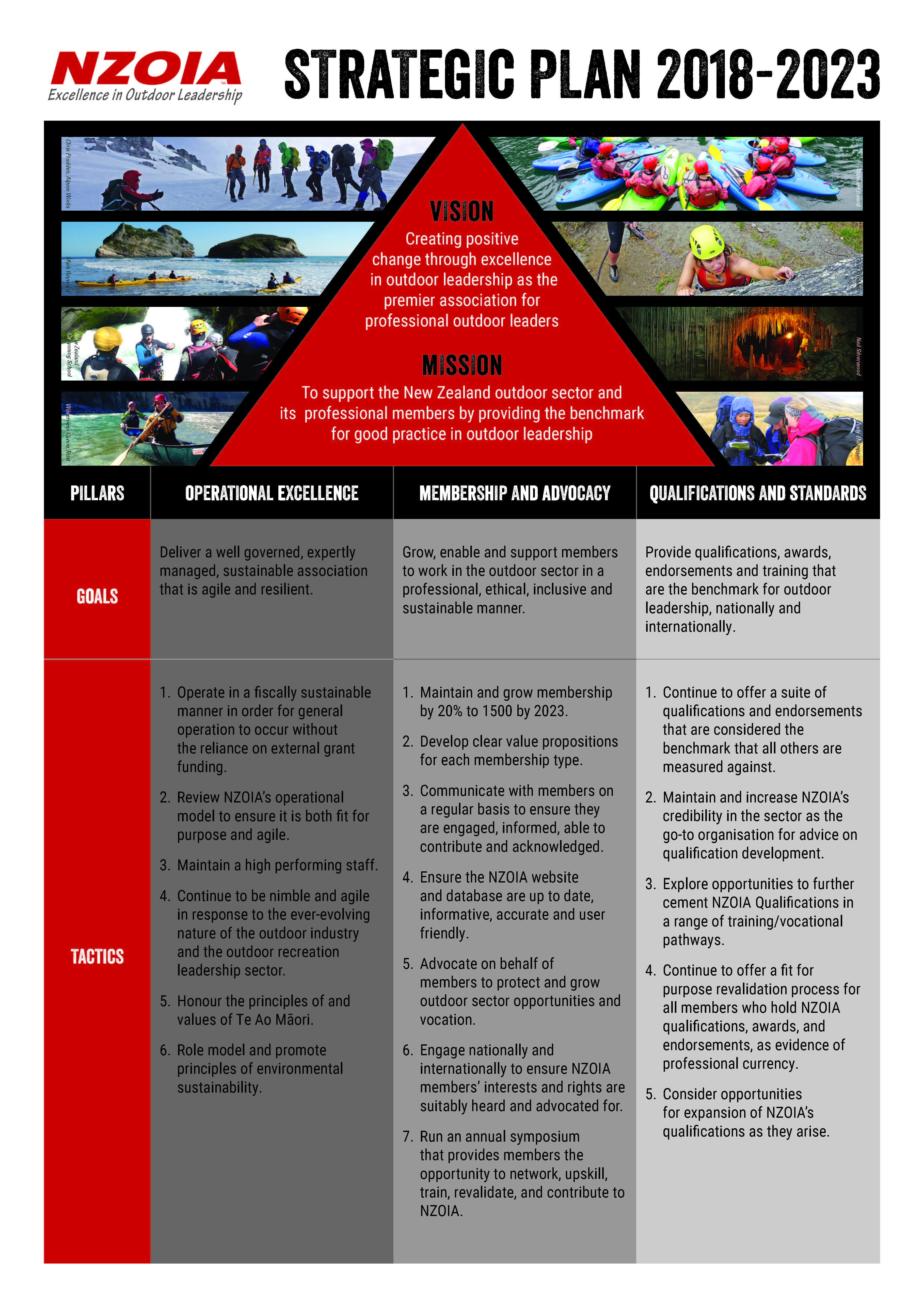 Where NZOIA wants to be:
• Those being led in the outdoors are assured of quality experiences where risk is well managed.
• The outdoor sector has a single staircased national standard in each discipline with clear pathways for achievement.
• The quality of NZOIA's training, assessment, and revalidation processes are seen as examples of current industry practice.
• People working in the outdoor sector hold relevant national qualifications that are annually revalidated for currency.
• The outdoor sector works to ensure that:
− Resources are used effectively
− Organisations work collaboratively
− All instructors are current and registered
• The value and contribution that NZOIA makes to the outdoor sector is well recognised.
• Injuries and deaths in the outdoors are reduced through NZOIA support and contribution to relevant sector initiatives.
• Relevant NZOIA qualifications are prerequisites for employment in the NZ outdoor sector.
• NZOIA is recognised by the outdoor sector as having significantly improved accessibility to qualifications.
• NZOIA is recognised by its members as having significantly extended its services and increased advocacy and support for members.
Our Partners
NZOIA's qualification scheme was designed in partnership with the NZ Recreational Canoeing Association (now Whitewater NZ), the NZ Speleological Society, the Sea Kayak Operators Association NZ (SKOANZ), and the canyoning guides.
NZOIA regularly reviews the qualifications to ensure they're relevant to industry needs.
Kiwi Association of Sea Kayakers
Legal Stuff
The contents of these pages are © New Zealand Outdoor Instructors Association 2020. We place strict access conditions on the information. Also, we're very careful with members' information.